Polyether Ether Ketone (PEEK)
---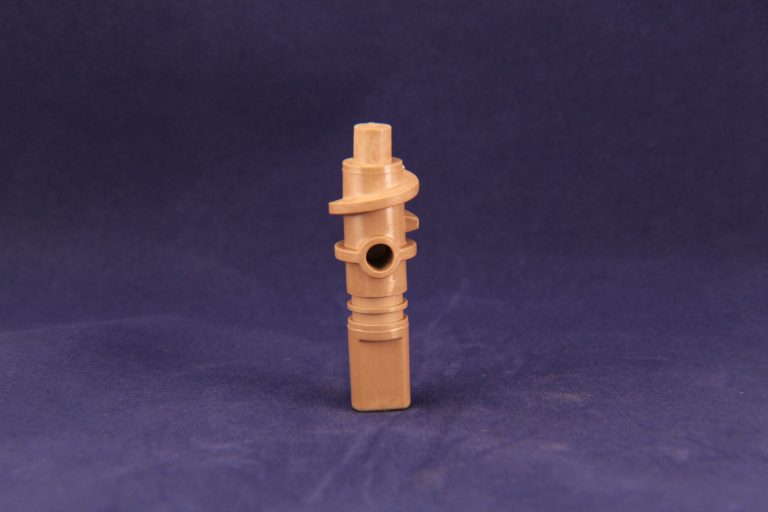 Rebling is experienced in plastic injection molding of Polyether Ether Ketone "PEEK". This type of thermoplastic is desirable for applications where thermal, chemical and combustion properties are key to performance. Rebling uses this material in many different applications such as marine, aerospace, and defense. We often recommend this material because it is strong, tough, and rigid with outstanding creep resistance. This combination makes PEEK an effective replacement material for metal gears, where cost and weight savings are desired.
Properties of PEEK
PEEK is a semi-crystalline, high-temperature engineering thermoplastic. It melts at relatively high temperatures compared to most thermoplastic materials. It has great mechanical and chemical resistant properties that are retained at high temperatures. It has low smoke and toxic gas emissions, low moisture absorption, excellent fatigue, stress-crack, hydrolysis, and chemical resistance. PEEK is considered a "high performance" material.
There are numerous grades of PEEK including:
Unfilled - is an unreinforced general-purpose grade that offers steam and wears resistance. It also is the greatest elongation and durability of all the grades. It is best for device components where aesthetics is a concern.
30% Glass-Fiber Reinforced – glass fiber is added to reduce the expansion rate and increases the flexural modulus. This PEEK material would be used for applications that use temperatures higher than 300º F. Rebling would use this material when strength, stiffness, and stability are key factors.
30% Carbon-Fiber Reinforced – carbon fibers lower the expansion right and greater thermal conductivity. This Peek material offers the ideal wear resistance and load-carrying of all the PEEK grades.
Bearing Grade – a mixture of carbon fiber with graphite and PTFE lubricants. This offers the lowest amount of friction and the best machinability of all the PEEK grades. This is also the easiest machining material.
PEEK plastic injection molding processing
With PEEK, like other high-temperature thermoplastics, it is critical to use an injection molder who has experience molding these materials. The mechanical properties of the finished product can be compromised if the process temperatures do not meet the recommended ranges.