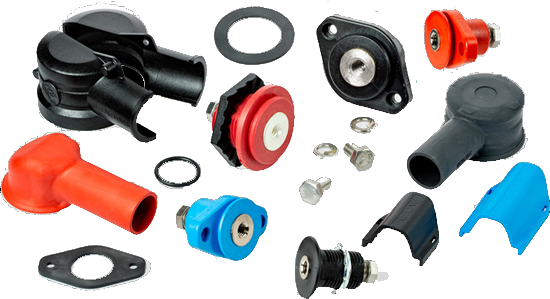 Imperial-threaded fasteners have been the standard on military and civilian aircraft worldwide for over 100 years. These Terminals are used on Avionics Power Distribution Panels, Power Conditioning Modules, UAVs, and EV Passenger Planes. Imperial-threaded Terminals have the same Performance Characteristics and accept the same Covers and Gaskets as their metric-threaded equivalents.
Imperial Terminals are available exclusively
through
our authorized distributor,
Flame Enterprises.
---
Our TFT terminal (without mounting ears) which will be available in Red, Black, and Blue in Q4 2022. This 100 amp terminal will be available with or without Fixed-Orientation Ridges, can accommodate 8 AWG to 2 AWG (8 mm

2

to 34 mm

2

) cables, and will have snap-on Flexible and Rigid Covers. Unlike our SFT-style Terminal, the TFT-style Terminal does not require panel mounting screws, because it has molded-in. These cylindrical molded pegs enable the TFT to resist the tightening torque the user will apply to the terminal's M5 electrical connection bolts.

 
---
Our SFT-style terminal (with mounting ears) has performance characteristics identical to our LFT-style terminal but is specially designed for mounting onto thin or weak panels. The SFT can also reduce the costs of a single microgrid energy storage system by $2,000 and can accept the same snap-on rigid or flexible covers as our LFT-style terminal. The brass core is available with nickel plating for harsh environments and remains cool at extreme charge or discharge rates. Equipping your design with these watertight, single pole, wrench disconnect battery terminals will enable system integrators to easily incorporate your modules into the MicroGrid, Reserve Power, Vehicle Electrification, or APU systems the end-user requires, regardless of battery chemistry.

Learn More

← Performance, dimensions, accessories, and P/Ns →

Datasheet
---
Our MFT-style terminal (with mounting ears) provides a 500 amp continuous current performance, the ability to be mounted to panels of any material or thickness, and retains the same 2,000 volt rating, IP68 sealing capability, and nickel plating option as the lower power members of our battery terminal family. The MFT can accept the same snap-on rigid or flexible covers as our LFT and SFT-style terminals. Equipping your design with these watertight, single pole, wrench disconnect battery terminals will enable system integrators to easily incorporate your modules into the MicroGrid, Reserve Power, Vehicle Electrification, or APU systems the end-user requires, regardless of battery chemistry.

Learn More

← Performance, dimensions, accessories, and P/Ns →

Datasheet
---
Our 750 amp BFT-style terminal (without mounting ears) consists of a nickel-plated brass core that stays cool at 750 amps of continuous current or when charge and discharge currents hit short term peaks of 4,000 amps. These small footprint terminals are designed for the temperature-sensitive environment of lithium battery cells and the charging rates of ultracapacitors and supercapacitors. Equipping your power module with these watertight, single-pole, wrench disconnect brass battery terminals will facilitate the incorporation of your modules into cutting edge GenSet, APU, or Vehicle Electrification systems

Learn More

← Performance, dimensions, accessories, and P/Ns →

Datasheet
---
Our 1,000 amp BFT-style terminal (without mounting ears) consists of a nickel-plated copper core that stays cool at 1,000 amps of continuous current or when charge and discharge currents hit short term peaks of 5,000 amps. These small footprint terminals are designed for the temperature-sensitive environment of lithium battery cells and the charging rates of ultracapacitors and supercapacitors. Equipping your power module with these watertight, single-pole, wrench disconnect copper battery terminals will facilitate the incorporation of your modules into cutting edge EV, APU, Fuel Cell, and Weapons Systems.

Learn More

← Performance, dimensions, accessories, and P/Ns →

Datasheet
---
Our 1,000 amp XFT-style terminal (with mounting ears) has performance characteristics identical to our 1,000 amp BFT-style terminal but is specially designed for mounting onto thin or weak panels. The 1,000 amp XFT-style terminal's nickel-plated copper core stays cool at 1,000 amps of continuous current or at short term peaks of 5,000 amps. These terminals are designed for the temperature sensitive environment of lithium battery cells and the charging rates of ultracapacitors and supercapacitors. Equipping your power module with these watertight, single pole, wrench disconnect copper battery terminals will facilitate the incorporation of your modules into cutting edge EV, APU, Fuel Cell, and Weapons Systems.

Learn More

← Performance, dimensions, accessories, and P/Ns →

Datasheet
---