Battery Vent Caps & Breather Valves
---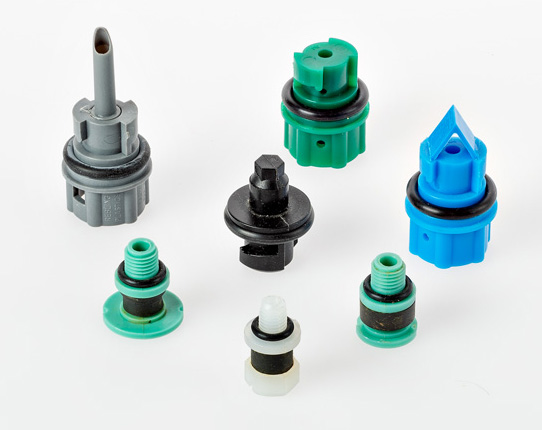 Rebling manufactures a line of vent caps used in a range of power storage cell technologies. These removable battery vent caps seal the electrolyte within the cell and allow venting of the internal pressure of the cell at prescribed pressure ranges. While various configurations and battery venting pressures are available, the basic construction of these battery vent caps is shown in the photo.
By varying the geometry of this design, the vent relief pressure range can be changed to suit Customer requirements. Battery venting pressures ranging from a low of 2 psi to over 35 psi are available.
Ni-Cad Aircraft Battery Vent Caps
Rebling's battery vent caps were originally designed for commercial Ni-Cad aircraft batteries. The standard battery vent cap configurations are appropriate for most applications. However, Rebling also introduced a line of battery vent caps that minimize electrolyte leakage in aerobatic applications including roll maneuvers. These aerobatic aircraft vents are similar to the standard line with the addition of deflectors or snorkels that extend below the electrolyte level within the cell when inverted.
Ultracapacitor Vent Caps
With the recent proliferation of Ultracapacitor usage in high current applications, battery OEMs have been ramping up to produce these devices with similar manufacturing techniques. Rebling has been working to provide solutions to these new battery vent caps, including Ultracapacitor vent caps. Some of these technologies and chemistries require specialized battery venting pressures. Rebling can customize its standard battery vent cap designs to accommodate the needs of Ultracapacitors.


---
TOP FEATURES 700240 & 700250

One piece molded construction
EPDM O-ring and sleeve
For use on nickel-cadmium battery cells
P/N 700240 conforms to M81757/2B
P/N 700250 conforms to MIL-B-81757/10;
MS3510-1 and MS75046-1
One qualified products list

TOP FEATURES 700247

Reduced electrolyte leakage
Automatic venting of battery gases at 2-10 psi
For use on nickel-cadmium battery cells
Meets proposed standard MS3510-B
One piece molded nylon construction with
baffle sonically welded to the body
EPDM O-ring and sleeve

TOP FEATURES UCVC-102

Vents at 2-10 psi (custom pressures available)
Reduced weight
Small profile outside the cell
Chemically resistant nylon body fits existing cells
Bayonet type fitting