Polyetherimide Ultem
---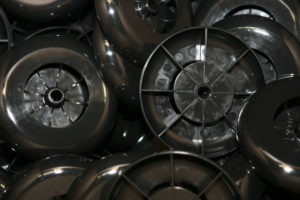 Rebling has experience with injection molding polyetherimide, often referred to as the brand ULTEM®, for applications ranging from telecommunications equipment to medical devices. ULTEM® is an amorphous thermoplastic polyetherimide principally noted for its ability to withstand long and repeated exposure to boiling water. For this reason, it is often specified in medical devices that must be sterilized using an autoclave.
Rebling has provided ULTEM® plastic material moldings with molded in metal inserts referred to as insert molding. The external design of the metal insert as well as the design of the plastic part should be reviewed to minimize notch effects which can reduce the strength of the part significantly.
Properties of ULTEM® plastic
As with most other plastic injection molding compounds, there are many commercial grades of ULTEM® plastic available. The unfilled general purpose ULTEM® material is translucent amber in color but can be modified with color concentrates to produce many opaque colors. The unfilled material has a heat deflection temperature of 200° C at 264 psi, placing the material at the upper echelon of heat resistant, moderately priced thermoplastic injection molding compounds. ULTEM® retains a higher percentage of its mechanical strength than most other thermoplastic injection molding compounds when exposed to elevated temperatures. Glass fiber reinforcements are available in concentrations ranging from 10 to 40% to improve rigidity. ULTEM® plastic material is also available in UL 94 V-0 approved grades and an internally lubricated grade for wear resistant applications.
Being an amorphous thermoplastic, ULTEM® provides uniform shrinkage in both the flow and transverse-to-flow directions, enabling Rebling to accurately predict mold shrinkage from the outset. This uniformity in shrinkage can be maintained over a fairly wide processing range so precise dimensional control is easier to achieve when compared to a crystalline thermoplastic. Uniformity in shrinkage also results in minimal warpage after molding the ULTEM® material.
ULTEM® is noted for excellent creep resistance needed in those applications where constant loading of the plastic part is required. The chemical resistance of the ULTEM® plastic material is superior to nearly all other amorphous thermoplastics. It is resistant to fully halogenated hydrocarbons, alcohols, weak aqueous solutions, and most commercial automotive fluids.
ULTEM® Polyetherimide plastic injection molding design
Rebling has molded ULTEM® plastic parts with snap fits without the incorporation of mechanical slides in the mold. The material is somewhat notch sensitive, so good design practice necessitates specifying a generous radius on external and internal corners. Rebling design engineers have extensive experience in optimizing ULTEM® plastic part designs for functionality, cosmetics, cost, and processing. Coring of the ULTEM® plastic part to produce a cross section of nearly constant thickness is essential in achieving a consistent molded part. Rebling engineers can recommend various methods of coring including the use of ribs and gussets and assist in the design of bosses and snap fits. Both thread forming and thread cutting screws can be used in ULTEM® moldings provided the boss is properly designed. The design of the "energy director" used for ultrasonic welding is important in assuring that a high strength cosmetically pleasing weld is achieved.
Secondary Operations for ULTEM® plastic parts
Rebling can supply ULTEM® plastic components that require post molding operations such as ultrasonic welding to form an assembly; secondary machining operations; installation of metal inserts via ultrasonic insertion; and decorated moldings using hot stamping, pad printing, and laser marking processes. Secondary machining operations include drilling and tapping, turning, and milling.